Scraps & Sawdust...The SCD Blog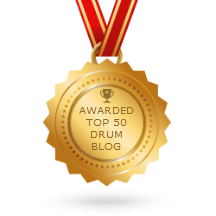 Details

Category: Stone Custom Drum Blog
Many thanks to DRUM! Magazine and reviewer Brad Schlueter, whose review of our Verry Cherry drums is now also available online. As Brad noted, these drums feature a 3-ply all-cherry shell, with a solid tone-generating Rezo Core® at the center, so they are totally about tone.
We'll be at NAMM in a couple weeks, so come 'round and have a listen. Verry Cherry delivers handcrafted tone deluxe.
Details

Category: Stone Custom Drum Blog
The Stone Custom Drum Niles shell pack has the heart and soul of a late-1970s Slingerland drum kit. In fact, it's a dead ringer. That's because the Niles' 5-ply shells are formed in the same molds Slingerland used for over half a century. With maple and poplar wood coming from the Great Lakes area and authentic reinforcement ring-less construction, they sing with the same brilliant attack and rich, open tone as the originals. They even look the part thanks to Slingerland-style appointments — Stick Saver hoops, bullet lugs, and amber-finished shell interiors. You truly won't find a production kit that comes as close to a classic Slingerland as the Stone Custom Drums Niles shell pack.
Details

Category: Stone Custom Drum Blog
We're thrilled to have a drummer with the credentials as Nick D'Virgilio reviewing our drums. He is a tremendous musician and his enthusiasm for our products is a rush of wind in our collective sails.
Details

Category: Stone Custom Drum Blog
We are very proud and honored to be featured in Sweetwater Music's "InSync" publication.
Our artist Nicholas Joseph Lucero's drums, a unique early-production "Verry Cherry" kit is the cover image on that story.